Jtek DropStop Chain Anti-Drop device
Bottom bracket style mounting and fantastic frame protection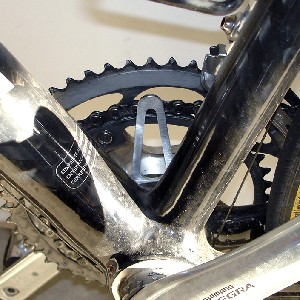 The DropStop is a new type of anti-chain drop device for road and mountain bikes. The DropStop is ideal for full suspension mountain bikes or road bikes with non-round or oversize seat tubes which make it impossible to mount other types of anti-drop devices. The DropStop is mounted and firmly clamped into position using the bicycles bottom bracket. The DropStop totally protects the frame from chain damage due to chain-drop and keeps the chain running on the inner chainring.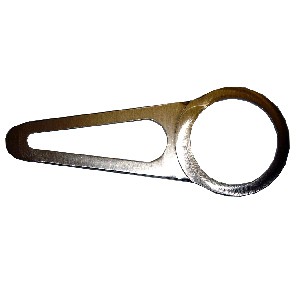 Simple design for both road and mountain bikes
Hardened aluminum construction with nickel plating
No seat tube mounting required
Excellent frame protection
The DropStop is sold in two sizes. The longer size is for road bikes and will protect up to a 39 tooth small chain ring. The shorter size will work with most cross and mountain bikes with small chain rings up to 32 tooth.