Shiftmate 6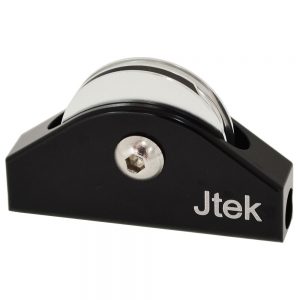 This model is for mating Shimano shifters with SRAM 1:1 derailleurs or SRAM non-road shifters with Shimano derailleurs.
It will also let you run Shimano 10 speed road STI with Shimano MTN 10 Dyna-Sys derailleurs and Shimano or SRAM cassettes.
The ShiftMate Straight is an inline shifting interface device for mating different bicycle shifting components. Using a ratio changing pulley, the ShiftMate Straight adapts different component brands and models to make the proper correction in the amount of cable pull needed for perfect shifting.
– CNC machined.
– Sealed ball bearing.
– Hard Nickel plating.
– Ideal for straight cable run mounting or mounting at cable stop locations.
| Shifter | Derailleur | Cassette type and speed | Pulley groove size that cable enters |
| --- | --- | --- | --- |
| Shimano 9 speed road or MTB | SRAM 1:1 | SRAM / Shimano 9 speed | Small |
| SRAM mtb twist / trigger 9 speed | Shimano road to 10*, MTB to 9 speed | SRAM / Shimano 9 speed | Large |
| Shimano 10 speed road* | SRAM 1:1 | SRAM / Shimano 10 speed | Small |
| Shimano 8 speed road or MTB | Shimano 10 speed MTB | SRAM / Shimano 8 speed (use 9s chain) | Small |
| Shimano 9 speed road or MTB | Shimano 10 speed MTB | SRAM / Shimano 9 speed | Small |
| Shimano 10 speed road* | Shimano 10 speed MTB | SRAM / Shimano 10 speed | Small |
| Shimano 10 speed MTB | Shimano road to 10*, MTB to 9 speed | SRAM / Shimano 10 speed | Large |
*Except Shimano Tiagra 4700 10 speed shifters and rear derailleur