Shiftmate 8A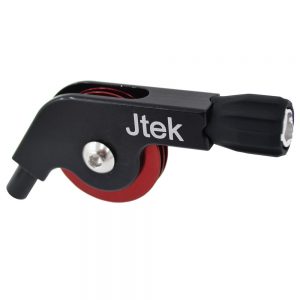 Designed for mixing Shimano 11 speed road STI with Shimano 11 speed MTN derailleur.
This allows you to use drop handlebars with off road gearing, as on cyclocross bicycles.
To use straight handlebars on an 11 speed road bike fit the Shiftmate at the shifter.
This allows Shimano 11 speed MTN shifters to work with Shimano 11 speed road derailleurs.
– CNC machined.
– Sealed ball bearing.
– Hard Nickel plating.
– Reduces cable friction and cable housing length.
– Small compact design only 17 grams.
| Shifter | Derailleur | Cassette type and speed | Fit Shiftmate into |
| --- | --- | --- | --- |
| Shimano 11 speed road | Shimano 11 speed MTB | Shimano / SRAM / Campagnolo 11 speed | Derailleur |
| Shimano 11 speed MTB | Shimano 11 speed road | Shimano / SRAM / Campagnolo 11 speed | Shifter |