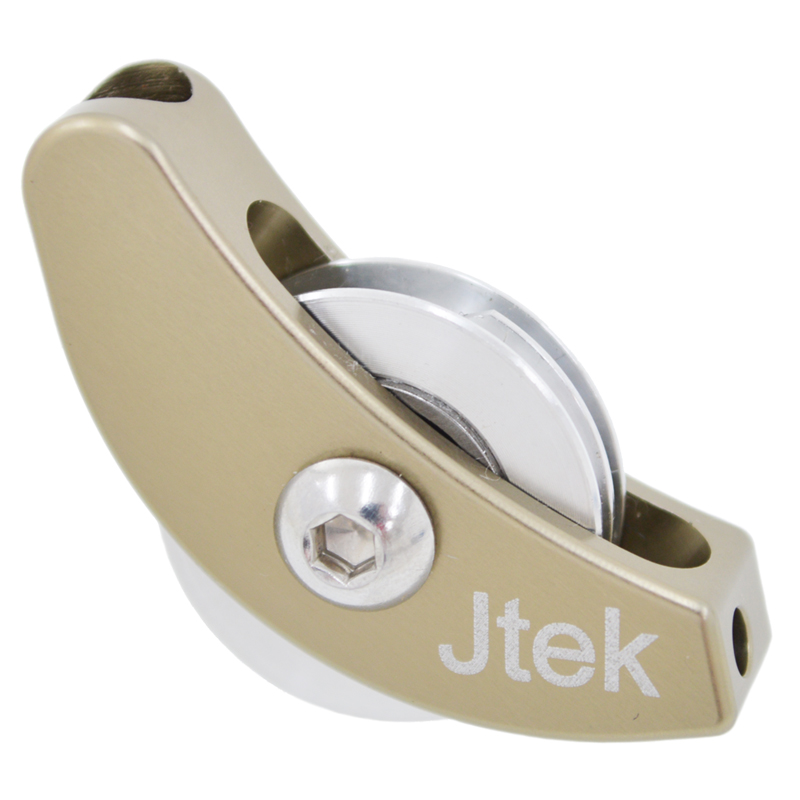 Shiftmate 4
This model is for mating older Pre-2001 8 & 9 speed Campagnolo components with Shimano 8 & 9 speed components. You can also match newer Campagnolo 11 speed with Shimano 10 speed components. Please check the link above for all suitable combinations.
Using a ratio changing pulley, the ShiftMate adapts different component brands and models to make the proper correction in the amount of cable pull needed for perfect shifting. There are no comprimises when using a ShiftMate. Your shifting will perform equally or better than original factory components.
ShiftMate features and benefits:
CNC machined
Sealed ball bearing
Reduces cable friction and cable housing length
Wide range of component mates & interfacing
Small compact design only 12 grams
Save money by upgrading over time or using components and wheelsets you already own.
table#t6 {
border-collapse: collapse;
border-width: 0px;
border-style: outset;
margin: 20px 0;
line-height: 2.0em;
text-align: center;
vertical-align: top;width: 100%;border-top: 1px solid #94DBFF;border-bottom: 1px solid #94DBFF;box-shadow: 0 2px 3px rgba(0, 0, 0, 0.4);
}
table#t6 thead tr {
}
table#t6 thead tr th.t6 {
color: #333333;
background: none repeat scroll 0 0 #D1F0FF;
font-size: 1em;
letter-spacing: 0;
line-height: 1.2;
font-size: 1.0em;
padding: 4px;
text-transform: none;
text-align: center;border-bottom: 1px solid #94DBFF;
}
table#t6 thead tr th#t6.start {
}
table#t6 thead tr th#t6.end {
}
table#t6 tbody tr {
background: none repeat scroll 0 0 #F0FAFF;
}
table#t6 tbody tr.table-alternate {
background: none repeat scroll 0 0 #FCFEFF;
}
table#t6 tbody tr td {
padding: 5px;
border-width: 0px;
font-size: 1.0em;
border-top: medium none;border-bottom: 1px solid #94DBFF;
text-align: center;
line-height: 1.2;
vertical-align: top;
}
table#t6 tbody tr td#n1 {
width: 25%;
}table#t6 tbody tr td#n2 {
width: 25%;
}table#t6 tbody tr td#n3 {
width: 25%;
}table#t6 tbody tr td#n4 {
width: 25%;
}
table#t6 tbody tr:hover td {
}
table#t6 tfoot tr {
}
table#t6 tfoot tr td {
background: none repeat scroll 0 0 #D1F0FF;
padding: 4px;
border-width: 0px;
font-size: 1.0em;
border-top: medium none;
text-align: center;
}
| Shifter | Derailleur | Cassette type and speed | Pulley groove size that cable enters |
| --- | --- | --- | --- |
| Shimano 8 speed | Pre 2001 Campagnolo | Campagnolo 8 speed | Small |
| Shimano 9 speed | Pre 2001 Campagnolo | Campagnolo 9 speed | Small |
| Campagnolo 8 speed | Shimano road to 10, MTN to 9 speed | Shimano 8 speed | Large |
| Pre 2001 Campagnolo 9 speed | Shimano road to 10, MTN to 9 speed | Shimano 9 speed | Large |
| Campagnolo 11 speed | Shimano road to 10, MTN to 9 speed | Shimano 10 speed | Large |
| SRAM road 10 speed | Shimano road to 10, MTN to 9 speed | Campagnolo 10 speed | Small |
| Shimano road 11 speed | SRAM road 10 speed | SRAM 10 speed | Small |
| Shimano road 11 speed | SRAM road 11 speed | Shimano or SRAM 11 speed | Small |
| SRAM road 11 speed | Shimano road 11 speed | Shimano or SRAM 11 speed | Large |
| Campagnolo 10 speed | Campagnolo 10 speed | Shimano 7 or 8 speed | Small |