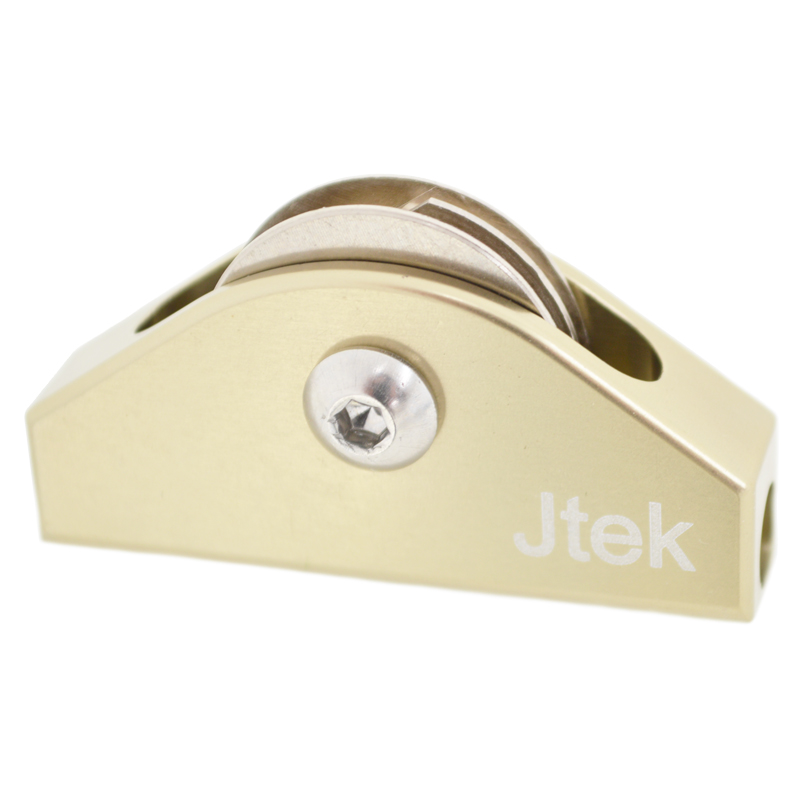 Shiftmate 5
This model is for mating Campagnolo 2001+ shifters with SRAM 1:1 derailleurs. – see compatiblity guide.
The ShiftMate Straight is an inline shifting interface device for mating different bicycle shifting components. Using a ratio changing pulley, the ShiftMate Straight adapts different component brands and models to make the proper correction in the amount of cable pull needed for perfect shifting.
– CNC machined.
– Sealed ball bearing.
– Hard Nickel plating.
– Ideal for straight cable run mounting or mounting at cable stop locations.
table#t7 {
border-collapse: collapse;
border-width: 0px;
border-style: outset;
margin: 20px 0;
line-height: 2.0em;
text-align: center;
vertical-align: top;width: 100%;border-top: 1px solid #94DBFF;border-bottom: 1px solid #94DBFF;box-shadow: 0 2px 3px rgba(0, 0, 0, 0.4);
}
table#t7 thead tr {
}
table#t7 thead tr th.t7 {
color: #333333;
background: none repeat scroll 0 0 #D1F0FF;
font-size: 1em;
letter-spacing: 0;
line-height: 1.2;
font-size: 1.0em;
padding: 4px;
text-transform: none;
text-align: center;border-bottom: 1px solid #94DBFF;
}
table#t7 thead tr th#t7.start {
}
table#t7 thead tr th#t7.end {
}
table#t7 tbody tr {
background: none repeat scroll 0 0 #F0FAFF;
}
table#t7 tbody tr.table-alternate {
background: none repeat scroll 0 0 #FCFEFF;
}
table#t7 tbody tr td {
padding: 5px;
border-width: 0px;
font-size: 1.0em;
border-top: medium none;border-bottom: 1px solid #94DBFF;
text-align: center;
line-height: 1.2;
vertical-align: top;
}
table#t7 tbody tr td#n1 {
width: 25%;
}table#t7 tbody tr td#n2 {
width: 25%;
}table#t7 tbody tr td#n3 {
width: 25%;
}table#t7 tbody tr td#n4 {
width: 25%;
}
table#t7 tbody tr:hover td {
}
table#t7 tfoot tr {
}
table#t7 tfoot tr td {
background: none repeat scroll 0 0 #D1F0FF;
padding: 4px;
border-width: 0px;
font-size: 1.0em;
border-top: medium none;
text-align: center;
}
| Shifter | Derailleur | Cassette type and speed | Pulley groove size that cable enters |
| --- | --- | --- | --- |
| Campagnolo 9 speed | SRAM 1:1 | SRAM / Shimano 9 speed | Small |
| Campagnolo 10 speed | SRAM 1:1 | SRAM / Shimano 10 speed | Small |
| Shimano 11 speed road | Shimano 11 speed road | Shimano 7 or 8 speed road | Small |
| Shimano 11 speed MTN | Shimano 11 speed MTN | Shimano 7 or 8 speed road | Small |